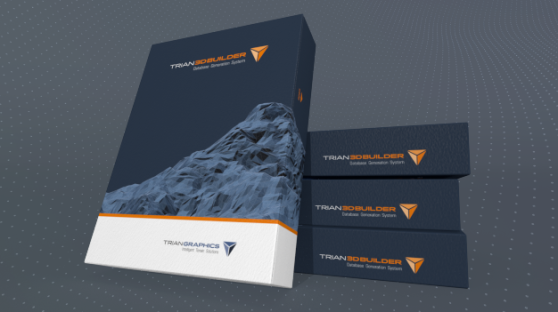 Trian3DBuilder
Trian3DBuilder 6 - Data Base Generation System

The Database Generation System Trian3DBuilder sets new standards for the creation and editing of digital landscapes. Due to its novel workflow, Trian3DBuilder is fast and intuitive to learn and at the same time the most powerful terrain generation tool on the market. Use our software to create terrain databases in a multitude of formats for various applications and simulation systems.

Key Features
Geospecific, geotypic and generic databases
Ease of use, rapid database design and creation
Verification in integrated 3D viewer
Highly realistic, huge 3D environments with WYSIWYG editing
Generation of complex street networks with OpenDrive export
Generation of airports and buildings
Export in
OpenSceneGraph,
FLT/MFT,
GDB,
FBX,
VBS3,
Steel Beasts Pro,
OBJ,
STL,
COLLADA,
Havok Vision Engine
Multi-core and 64-bit support
Project wizard
SDK
Create large-scale detailed areas for your real-time applications based on image, height and vector data within the shortest time.
Apart from high-quality geospecific databases photorealistic geotypical and generic terrains can be created comfortably. The data is optimized for real-time rendering and saved in standard formats.
The processing of vector data provides manifold opportunities to refine the landscapes:
Place objects, create complex road networks in seconds, cut waters in the landscape geometry and much more.